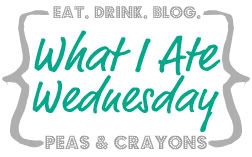 I love the idea of doing "What I ate Wednesday". It took alot of reminding to not forget to photograph my food. I did however have one snack that I already have posted so that was great, one less reminder that I had to give myself. I was supposed to have
Turkey Black Bean Chili
for lunch but ended up going to a restaurant to eat. All I had to photograph was a cheepy cell phone, is cheepy a word?. I took the picture but can't take it off now.... I tried. Today was a workout day, I walked for 40 min, and ran for 20. Most of the walking was done with an incline. So here's what I ate.
Breakfast
Protein Pancake with 1 tbsp maple syrup, 1/2 Cara Cara orange,3 strips Simply Free Smoked Ham Slices and Coffee


Gluten and Dairy Free Chocolate Protein Pancake
2 tbsp brown sugar
1 cup oat flour
1tsp baking powder
½ tsp salt
½ tsp cinnamon
2 eggs
3 banana mashed
2 tbsp almond yogurt, vanilla
¼ cup almond milk, unsweetened
1 scoop chocolate protein
Whisk all the dry ingredients in a bowl. Then whisk in all the wet. Mix just until incorporated. Scoop ¼ cup of batter. Spray pan with cooking spray. Fry on medium low until bubbles rise to the top, a couple of minutes. I have noticed that they don't get as bubbly as a regular pancake batter. Then flip and fry for another couple of minutes. Top them however you choose.
Makes 8
Post Workout Snack
Chocolate Protein shake and Banana
Lunch
I went to Red Ginger Restaurant, which is a new Viet/Thai restaurant that opened up. I had a lunch sized chicken and tofu pad thai, small bowl of won ton soup and 1 little spring roll, oh and a pepsi.
Supper
Shrimp with Tabbouleh, 1/2 Pepsi
I got this recipe from Fitness.com, I will post the recipe and link tomorrow.
Snack