Well It's time for What I Ate Wednesday. A day where bloggers from all over post what they ate for a day! Click the link below to check it out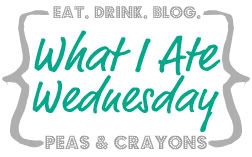 Alot of you were celebrating Memorial Day and had a long weekend on my day of eats. We had our long weekend last weekend and I had one again this week. Not because I wanted one or because it was an actual long weekend but it's because one of my babies has tonsillitis! Oh man he would be so mad if he knew I wrote one of my babies, he is 10 you know! So I stayed home and took him to the doctor.
Wanna know what happened on Monday that made me very happy?
Dan Brown's new book, Inferno, came in at the library for me...YAY!
Last week the new Iris Johansen book, Taking Eve, came in and I had just finished it Sunday night, perfect timing!
Anyways here is what I ate
Breakfast
2 little 100gram containers of full fat yogurt
1 tbsp chia seeds
1tbsp ground flax seeds
about 1/2 cup raspberries
3-4 tbsp plain granola
I love having this for breakfest, I was supposed to have hard boiled eggs and toast, but I forgot to boil the eggs Sunday night
I also had a BIG coffee with my breakfest!
Snack
I had to boil my eggs for the week so I just figured I would eat some
I also had another coffee!
Lunch
Tuna Salad with Garlic Naan

3 cans of flaked light tuna
2 celery stalks, finely minced
1/4 red onion, finely minced
2 tbsp chopped dill
1/2 tsp salt
a few turns of the pepper mill
4 tbsp fat free plain greek yogurt
This makes 3 servings
Supper
Mustard Rubbed Pork Ribs with Apple Butter Brown Sugar BBQ Sauce (Recipe will be posted Sunday!)
lots of grilled asparagus
3/4 of Lipton Sidekick- Broccoli and White Cheddar
That's it!