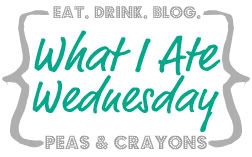 It's time for another What I Ate Wednesday! Thanks to Jenn at
Peas and Crayons
for hosting another WIAW, check out the link to see what everyone else is eating!

This was my Tuesday which was like Monday because it was Victoria Day here so I was a little off. I forgot to take a picture of my lunch but that's okay, it wasn't anything special.

It is super hot here and it makes so lazy. I don't want to move because it's so hot. It's going to cool down to more spring like temperatures later in the week, I am looking forward to it.

Before moving on to WIAW I have to say my heart is so sad for everyone that has lost everything and lost people they love in the tornadoes in Oklahoma, I hope everyone finds peace one day and that they can rebuild their lives and that a tornado this powerful doesn't happen again. Although I'm sure it will I hope that more lessons can be learned from this and the next time there are no fatalities. I think it's amazing that the number was so low for the power that this tornado had but 1 life lost is too many.


Breakfast
2 Hard boiled eggs, a peach, coffee, and 1 piece of whole wheat toast with strawberry jam
Post Workout
A chocolate whey protein shake
Today I did cardio, 30 minutes of hills on the treadmill, 30 min on the stationary bike doing intervals
Lunch
No Picture, I had a sandwich with oven roasted turkey sandwich meat with ,mustard and provolone cheese, 1 small thing of full fat vanilla yogurt and 1/4 cup blueberries
Snack
Supper
BBQ Chicken breast, Spanish rice and green and yellow beans, I also felt like a pop so I had a diet Pepsi and had a Tim Hortons coffee after supper
Since I didn't take a picture of what I ate for lunch I took a picture of what 2 of my 3 kids have for their lunch tomorrow. I pack lunches the night before to save time in the morning.
Grapes, half of a poppy seed bagel (one has strawberry cream cheese, one regular), summer sausage, old and medium cheddar cheese, cucumber slices, 1/2 Belgian waffle