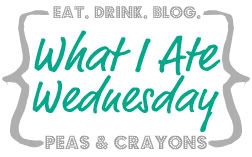 So I was able to try some of the foods that I prepared on Sunday and I have to say, I have enjoyed all of it! I will make all of those things again. As I said in that
post,
it's been a while since I prepared my food ahead of time and wanted to get back on track again. It has definitely made my week easier. I'm done the Live Fit trainer so I'm doing my own thing at the gym right now and I'm really enjoying it. I really like having a plan but after 3 months of it, I'm ready for a break. I have captured what I ate on Monday, which was my leg day. Here's what I did:
3sx20r leg extensions at 40lbs for a warm up
4sx8r leg press @ 170lbs
3sx20r seated calf press @130lbs
3sx10r each leg glute kickback machine @ 70lbs
3sx10r each leg barbell step ups @40lbs
20 wide stance barbell squats @40lbs, 20 narrow barbell squats @40lbs, 20 plie squats @15lb dumbbell (did 3 sets of this)
3sx10r stiff legged deadlifts @40lb barbell
3sx20r standing calf raises @40lb barbell
I finished it off with 10 minutes of stretching
It was a great workout!
So let's get back to what I ate on Monday
Breakfast
Here's the Cinnamon
Chocolate Chip Oat Pancakes
that I prepped on Sunday, I had 2 with E.D. Smith no sugar added syrup and a hard boiled egg, oh and of course coffee!