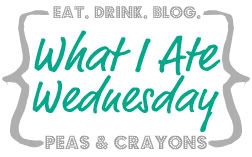 It's that time of the week again..man the week goes quick! Well I think maybe it's the weekend that goes quick, too quick. Click the picture above to head on over to Peas and Crayons, there you will find some great recipes and links to other bloggers participating in What I Ate Wednesday.
This weekend was the airshow that we have here every year. I have gone to a couple of airshows in other cities but have now gone to 3 here in my city. I looove the airshow! Check out this awesome plane
Okay enough about planes!

So here's what I ate

Breakfast
Turkey Burger....mmmmm....

Supper
2 BBQ Chicken thighs, a sliced roma tomato, greek salad and white cheddar KD

After supper I had another coffee

Snack
Green tea, a rice cake with natural peanut butter and cinnamon and a few sour cream and onion popchips

Have you ever been to an airshow?
If you have what are your favourite planes?