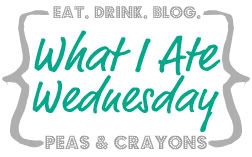 It's been a long time since I posted anything on here. Ahhh life gets in the way I guess. I have also been lacking in motivation to make my own recipes and have just been following recipes in a book exactly as written. I thought I would make my first post in a month a WIAW post! I was sick with strep throat last week, which left me exhausted and without an appetite. I hardly ate, I went from eating six times a day to eating two and that was forcing myself to eat then. I used to eat as soon as I woke up in the morning but I wasn't eating until hours after I got up, I also wasn't going to the gym. I'm not sick anymore and I'm done my antibiotics but my appetite still isn't back to where I would like it to be. So here's what I ate today
Breakfast
Breakfast was a big mug of coffee. I have been drinking more coffee than usual lately.
2 eggs fried in Pam spray and 3 pieces of pre cooked bacon, not the best tasting stuff but it's quick and hardly requires any energy
Snack
A protein shake with 1.5 scoops of protein mixed with water
Lunch
Homemade pizza with a quinoa crust, topped with turkey, portobello mushrooms, onions and a babybel cheese, check out the recipe
here
, this was really good. I added garlic powder to the crust.
Then I ate 3 squares of carrot cake with cream cheese icing, I just love those little squares
Dinner
That's what I ate today! Not the healthiest day but whatever!