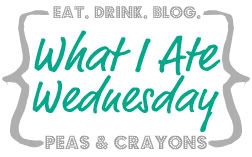 I haven't participated in What I Ate Wednesday in quite a while. But it's September...the kids are now back to school and life is starting to get back into more of a routine. I forgot to take a picture of two things I ate and took a bad cell phone picture of another meal, but hey, something is better than nothing! Here it goes
Breakfast
See bad cellphone photo!
2 eggs over easy, with 1/4 cup egg whites, 4 oz of BBQ eye of round (I will post this recipe another day), a whole wheat English muffing with my homemade strawberry jam and a coffee
Lunch
I didn't eat all of this! These pictures are from my food prep on Monday. I forgot to take a picture so I had a bit of the pasta and 1 patty.
Sun dried Tomato and Pesto Chicken Pasta
2 cups whole wheat penne (uncooked)
1/4 cup julienned sun dried tomatoes (not in oil)
1/4 pesto
8 oz of grilled chicken breast
Corn cut from 2 cobs of corn
Cook the penne. Put the sun dried tomatoes in the pasta while it's cooking for the last 2 minutes or so. Mix everything together.
Greek Turkey Burger
1/4 cup goat's feta
1 lb ground turkey
1 tsp oregano
juice and zest from 1/2 lemon
Mix all the ingredients, grill until cooked through.
Supper
Homemade chicken noodle soup and grilled cheese
After supper I had a piece of vanilla cheesecake with more of my strawberry jam on top with a coffee
That's it!